US Ambassador to Kenya Meg Whitman visited Kisumu weeks after the Nairobi Consulate issued an advisory to its citizens.
On Tuesday, August 30, Whitman announced that Kisumu County would be his first stop on his nationwide tour of all county decentralized units.
She was greeted by County Governor Professor Anyang' Nyong'o, who was recently sworn in for his second and final term.
US Ambassador to Kenya Meg Whitman disembarks from a plane after landing at Kisumu International Airport on Tuesday August 30.
Meg Whitman
The envoy met with a delegation from the county government as well as her colleagues deployed to the county to plan US programs in the county.
"Glad to fly to Kisumu this morning – my first county visit to Kenya! I look forward to a great day of meeting with local leaders and U.S. Embassy staff leading programs and essential U.S. investment," Whitman noted.
Furthermore, the envoy commended Nyong'o for retaining his seat in the recently concluded general elections. She further praised Kenya's third largest city
"Kisumu is a beautiful city and hosts many American investments, American businesses, American citizens and embassy programs," Whitman remarked.
His visit comes barely a month after a backlash from county residents following the "abundance of caution" notice issued on August 2.
Subsequently, the embassy released a statement, clarifying that the advice was not in bad faith and was merely protocol when their host countries went to the polls.
"Alerts of this nature to US citizens are common prior to elections around the world, and the United States has no information to suggest that the security situation in Kisumu, or any other part of Kenya, has been affected by the election preparations," the United States said.
In his response, Governor Nyong'o dismissed the alert and assured all expatriates working and residing in the city that peace would prevail before, during and after the August 9 elections.
"We welcome the United States Embassy's clarification of the alert. We would like to reassure our American brothers and sisters in Kisumu that we are aware of the matter raised by the advisory," it read in part. in the press release.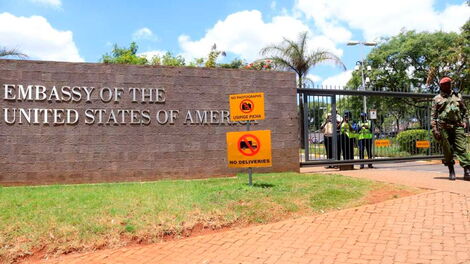 A picture of the door to the US Embassy Gate, Nairobi
East Africa